How can stainless steel clamping pipe fittings safely survive the winter?
http://www.chinasanqing.cn
Cangzhou Sanqing Industry and Trade Co., Ltd.
---
Many friends may have such questions about stainless steel clamping pipe fittings . Are pipe fittings not afraid of freezing? Especially in the cold northern winter, will the cold freeze? It is normal to have such doubts. The following small series will give you a brief analysis.
stainless steel clamping pipe fitting has the main advantage over ordinary plastic PPR pipe in that it has good ductility and toughness, which is also one of the reasons why it is not afraid of freezing under different low temperature working environments. Its ductility and toughness not only prevent it from being seriously damaged and deformed due to low temperature II, but also can withstand the extrusion caused by freezing to a certain extent, even if there is a certain degree of tensile deformation, it can still maintain its physical and chemical properties, and will not freeze cracking.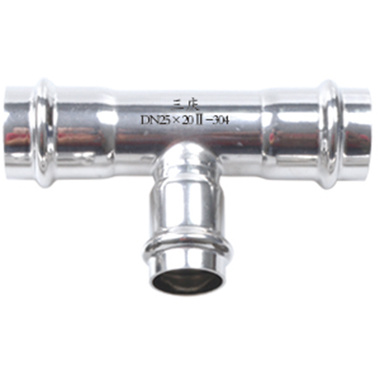 due to its stable properties. It can accept the test of low temperature, not only low temperature, high temperature performance is also very good, in this case can be long-term safe work, and the tensile strength is greater than 530N/nm. Another antifreeze secret of
stainless steel snap-on pipe fittings lies in its connection management mode. Although the traditional galvanized pipe has high strength, the link between it and the pipe fittings can be connected by threads, plus raw adhesive tape and sealing. Such a simple and easy-to-develop local culture that causes frost cracking and leakage is its connection, the connection of stainless steel pipe fittings also put an end to the occurrence of this social phenomenon.
Therefore, using stainless steel clamping pipe fittings in winter, no matter what kind of use environment, it can effectively prevent the occurrence of frost cracking and water leakage, so that you can use it with confidence.
Cangzhou City Sanqing Industry and Trade Co., Ltd. is a company specializing in stainless steel water pipes, socket welding series, grooved pipe fittings, single pressure pipe fittings, double pressure pipe fittings, tools and accessories. The company has an annual output of 6000 tons of stainless steel pipes, stainless steel pipe 5 million pieces of production capacity, product materials are mainly stainless steel 304,316,316L and so on. Welcome to come to consult.